POWERKEY PRO
The original CANbus keypad with replaceable inserts which is mostly imitated. Thanks to its compact design and different layouts with replaceable icon inserts, keypads in the PowerKey PRO series suit any function application and easily find their way in any cockpit.
RGB LED
Easy to read in any situation
Configurable independent status indicators lights (RGB)
configurable backlight colors available: red, green, blue, yellow, cyan, purple, white ice, amber, lime
RGB LED are the answer to a touch experience in the dark, dirty or low visibility conditions
CAN bus
CAN open and SAE J1939 compliant
Equipped with the communication protocols you already use
CANopen or J1939 are built-in and switchable without reprogramming
Fully compliant with Device Profile 401d
Plug and play solution
Customization
Flexibility of icons layout management
The replacement system for individual icon inserts makes modifying the keypad a child's play
Choose between thousands of icons already in the catalog or create your own.
Start customizing your PKP-SI keypad with our on-line configuration tool
IP67
CANopen and SAE J1939 compliant
Guaranteed to be dust tight and sealed against water immersion to a depth of 1 meter for up to 1 hour
Additional protection against high pressure water at high temperature spray downs
Highly resistant to deterioration caused by exposure to sunlight (UVB 400 hours)
Products need extra resistance
Products designed by exceeding standards to ensure performance and durability
Compact design
The small inserts (15mm) allow a compact design that fits any helm configuration
Which is the right series for you?
Choose between PKP-LI series (with large buttons) and PKP-SI series (with small buttons). Configure your PKP with the icon inserts you want.
DISCOVER
Choose your layout
PKP-2200-SI
PKP-2300-SI
PKP-2400-SI
PKP-2500-SI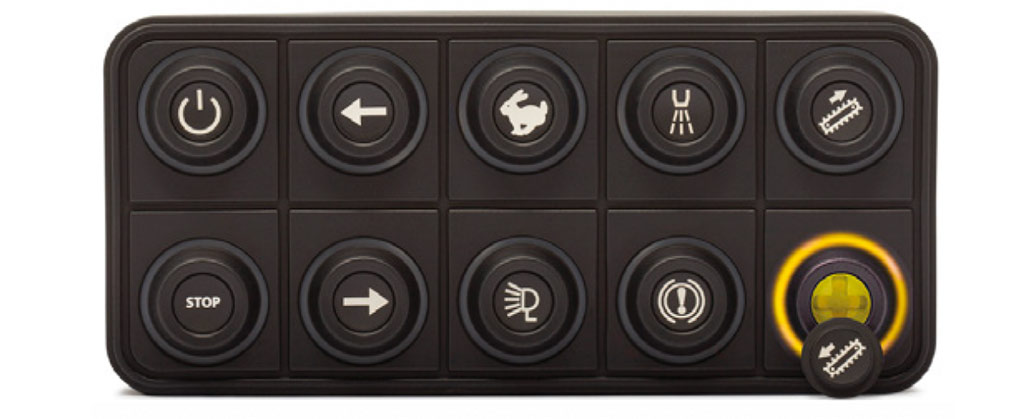 PKP-2600-SI
PKP-3500-SI
PKP-1200-LI
PKP-1500-LI
PKP-2200-LI
PKP-2400-LI
Configure, quote, buy
Do you need assistance?
Our customer care will typically contact you within 48 hours.